HQ34620 The reign of Edward II, 1307-1327 (part two)
Semester Two 2019-2020
Archived
The module will examine, week by week, a range of source types and explore themes arising from these sources in terms of the politics of the reign of Edward II (1307-27). This will also include a site visit, to Gloucester Cathedral and other neighbouring key sites.
This list relates to the semester Semester Two 2019-2020 which ended on 31/05/2020
This list has been archived
General information

0 items

How useful are chronicles as historical sources? Try to consider them in the context of other kinds of historical material - what is their strength?

Secondary sources

2 items

2. Governmental Records - the writing offices

6 items

Tout was one of the first historians to make valuable inroads into the records of the English Crown. This week we are looking at the records of one of the two great governmental offices of the high and late middle ages: Chancery. What sort of things can these records tell us and what are the pitfalls? Look through the Calendar of Patent Rolls for the years 1307-1313 with these questions in mind and produce some examples of entries which shed light on events in the early years of the reign.

Calendar of Patent Rolls, 1307-13

Chapter Essential for which see https://catalog.hathitrust.org/Record/003914672 or at https://archive.org/details/calendarpatentr11offigoog/page/n7/mode/2up

Secondary sources

5 items

3. Governmental records II: Finance, Exchequer and quantitative sources

7 items

Having considered the records of Chancery in the last seminar, we need to briefly consider the sources generated by the Exchequer in this seminar. Above all, we are interested here in the records of taxation, especially lay subsidy returns and assessments. More generally, this also allows us to consider the use and value of quantitative sources for the study of this period; do they best suit the study of social and economic history or can they also illumine the work of political historians?

Secondary sources

3 items

4. Parliament and its sources in the early fourteenth century

13 items

What does 'Parliament' mean in this period; is it still a fluid institution and what light can surviving sources shed upon it? The rise of the commons is important here. (In addition to the specific works listed below, you will probably need to look, in the first place, at some general discussion of the development of parliament; for example Prestwich,Three Edwards, c. 4, and bibliography.)

Secondary sources

8 items

5. Local records and the reign of Edward II

7 items

This seminar aims to consider the use to which locally generated sources (e.g. private series of accounts, local courts etc.) can be put in considering the political developments of the reign. Most importantly, can we discover anything about the impact at the local level of high level politics? The seminar will include a short talk on the use of the Dyffryn Clwyd court rolls as a source for the period.

Secondary sources

3 items

6. Private legal records: Charters and Indentures

5 items

Charters drawn up between individuals provide important insights into political allegiances and the fluid structures of political society. This class aims to consider the use which contemporaries made of documents as well as the ways in which historians use documents to construct historical arguments. The Sherburn Indenture and its related material has been the subject of some debate about the nature of the opposition ot the Despensers and to the tactics of that opposition, notably in their employment of the famous 'declaration of 1308'. We will spend a good proportion of this class considering the indenture and its associated documents.

In addition to the examples below, and in particular the Sherburn indenture, we will explore other contracts relevant to the politics of the reign, including grants and indentures; please bring examples of your own to the seminar.

Secondary sources

2 items

7. Literary sources

5 items

To what extent can literary sources provide evidence of popular attitudes? How do poems and songs about the period differ from chronicles in their message, origin and audience? Are they often too partial to be trusted?

Secondary sources

3 items

8. Art and Architecture

9 items

Here we change emphasis, moving from written records to the physical record of art and of buildings. From the marginalia of charters, through seals, wall-paintings and sculpture, to the developing church and cathedral architecture of the period, there are political messages to be read and historical arguments to be made. Returning also to the theme of popular perceptions and the impact of high politics at the local level, this class will consider the cults which arose around Thomas of Lancaster and Edward II, subsequent to their deaths; it is intended that this will permit some discussion of art (wall-paintings etc) in addition to the literary material (chronicles, poems etc.). In addition, the seminar will lead into the final seminar, a double-weighted seminar, which will involve a day-trip to Gloucester Cathedral to visit the tomb and resting place of Edward II as well to take in associated sites, including Berkeley Castle and Caerphilly castle.

Secondary sources

5 items

9 and 10 - Gloucester Cathedral, Berkeley and Caerphilly

0 items

Secondary sources

0 items
All rights reserved ©
Profile Required
Reading intentions and notes are stored against your user profile. Please create a profile to use this feature.
My notes
You must be logged in to add a note
What are item notes?
You can use item notes to make personal notes on any of your reading items. Notes are private to you and will not be shown to other users.
You can review your item notes from the list, the item page or from your profile page.
---
How do I create an item note?
To make notes, first you must be logged in. Once logged in, simply click Add note? next to the list item you wish to make notes on. You can also make notes at the bottom of every item's detail page.
Your note will be saved automatically as you type.
Have you read this?
You must be logged in to set a reading intention
What are reading intentions?
Setting up reading intentions help you organise your course reading. It makes it easy to scan through your lists and keep track of progress. Here's an example of what they look like: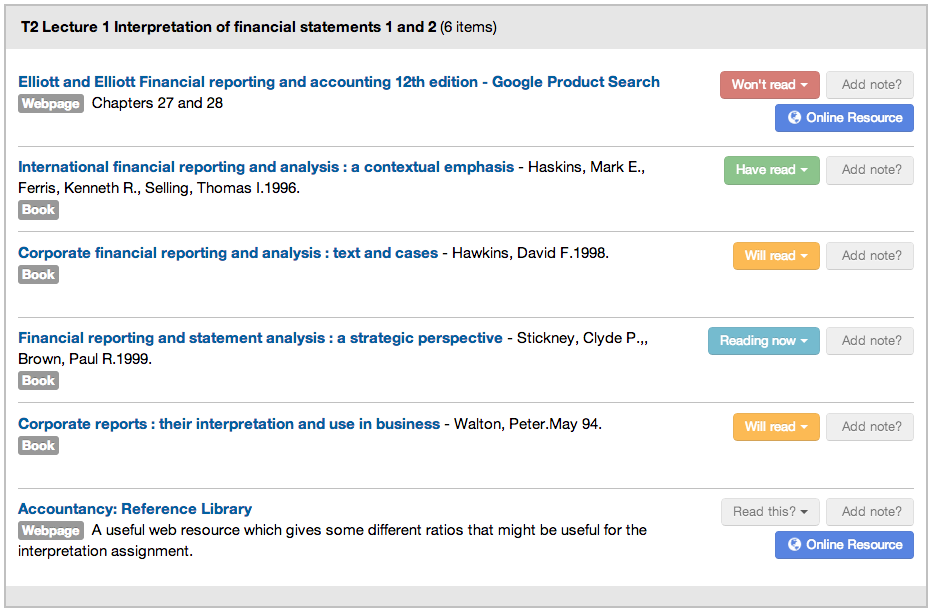 Your reading intentions are also stored in your profile for future reference.
---
How do I set a reading intention
To set a reading intention, first you must be logged in. Once logged in, click Read this? next to the list item you wish to set a reading intention for.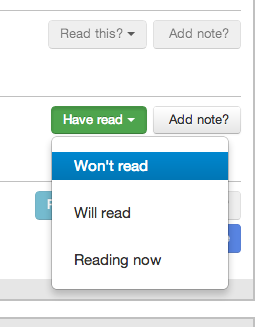 You can also set the reading intention from every item's detail page.