PDM0530 Action Research & Reflective Practice in HE and PDM0430 Professionalising your Teaching in HE
Semester One & Two 2020-2021
This list is used for both PGCTHE modules. The resources are categorised by topic.
Journal Further reading This journal has good articles about educational action research.

Reflective Practice

8 items

Reasons and rationalizations: the limits to organizational knowledge - Chris Argyris 2004 (electronic resource)

Book Further reading Argyris is the scholar who first described double-loop learning, a key principle in reflective practice. Although he talks about learning within organisations, the principle applies to students in universities as well as our own professional practice as educators.

The reflective practitioner: how professionals think in action - Donald A. Schön 1991 (various printings)1857423194

Book Further reading This is one of the key seminal works about reflective practice. Schon focusses on what professionals do. This book is highly recommended as a starting point for reading about reflective practice, a core principle in our study scheme.

Active Learning: Creating Excitement in the Classroom - Charles C. Bonwell, James A. Eison 1991

Book Essential This is the seminal work that lays out the definition of active learning, and provides a large number of ways it can be applied. Although the book is old, the information is still relevant and it is the key source cited by contemporary scholars on active learning.

Make it stick: the science of successful learning - Peter C. Brown, Henry L. Roediger, Mark A. McDaniel 20149780674729018

Book Further reading This book is aimed at both students and staff, and includes techniques we can use to help our students retain the information we teach.

Improving Students' Learning With Effective Learning Techniques - John Dunlosky, Katherine A. Rawson, Elizabeth J. Marsh, Mitchell J. Nathan 01/2013

Article Further reading Useful metastudy of methods for learning and teaching. Shows what works and what doesn't, based on evidence from cognitive science. Key message is that the methods students favour are not always the most effective ones for retaining information.

Assessment and Feedback

2 items

Technology-enhanced Learning

2 items

Practical Teaching and How Students Learn

25 items

Powerful Teaching - Pooja K. Agarwal, Patrice M. Bain Jun 05, 2019 (hardcover)111952184X,9781119521846

Book Further reading This book has useful advice you can use yourself and share with your students to help them learn.

Mindset - Carol S. Dweck 2017147213995x,9781472139955

Book Further reading This is the seminal work on growth versus fixed mindset.

10 mindframes for visible learning: teaching for success - John Hattie, Klaus Zierer 20181138635529,9781138635524

Book Further reading Hattie's concept of visible learning is based on an extensive metastudy that he carried out, with further research building on it. Visible Learning is about how we can know that students actually learn. His other articles and books are also excellent.

A Revision of Bloom's Taxonomy: An Overview - David R. Krathwohl 2002

Article Further reading This is the updated version of Bloom's taxonomy of educational objectives. Both models are good, but you may find this one easier to apply.

Essential questions: opening doors to student understanding - Jay McTighe, Grant P. Wiggins c2013 (electronic resource)

Book Further reading McTighe and Wiggins are the key scholars writing about Learning by Design and Backwards Design, a practice, commonsense method of designing modules and study schemes. Wiggins has some good videos on line where he talks about his process.

The psychology of effective studying: how to succeed in your degree - Paul Penn 2020

Book Further reading This book can be used by staff and students. It has the most recent findings from cognitive science about how students learn, presented in a friendly, accessible way. Read it yourself so you can incorporate the key messages in your teaching.

The understanding by design guide to creating high-quality units - Grant P. Wiggins, Jay McTighe c2011 (electronic resource)

Book Further reading This is a key text on the method called 'understanding by design' or 'backwards design'. This method is based on deciding first what you want students to be able to do after completing the module or study scheme, and working backwards to set appropriate assignments, marking criteria and then learning activities. An alternative to constructive alignment.
All rights reserved ©
Profile Required
Reading intentions and notes are stored against your user profile. Please create a profile to use this feature.
My notes
You must be logged in to add a note
What are item notes?
You can use item notes to make personal notes on any of your reading items. Notes are private to you and will not be shown to other users.
You can review your item notes from the list, the item page or from your profile page.
---
How do I create an item note?
To make notes, first you must be logged in. Once logged in, simply click Add note? next to the list item you wish to make notes on. You can also make notes at the bottom of every item's detail page.
Your note will be saved automatically as you type.
Have you read this?
You must be logged in to set a reading intention
What are reading intentions?
Setting up reading intentions help you organise your course reading. It makes it easy to scan through your lists and keep track of progress. Here's an example of what they look like: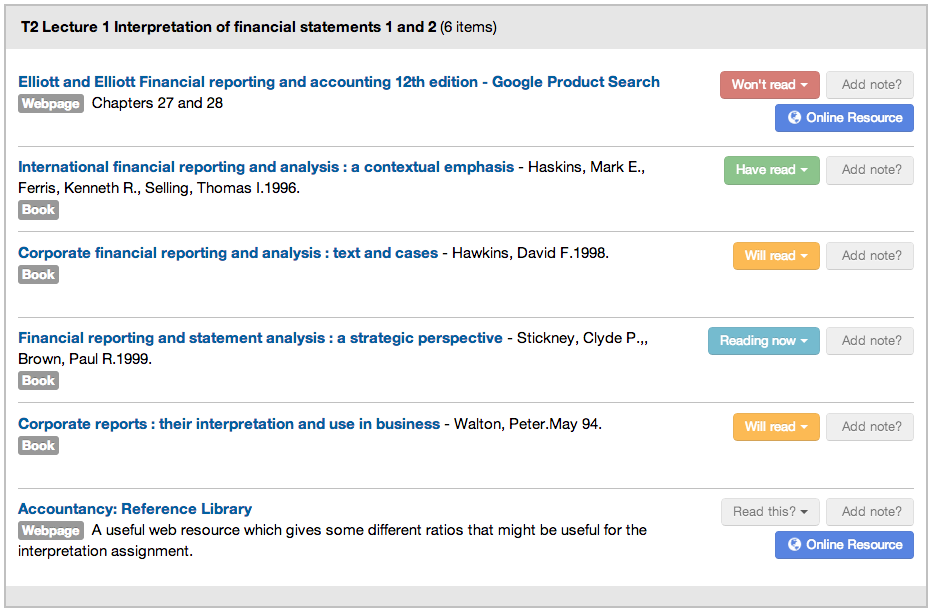 Your reading intentions are also stored in your profile for future reference.
---
How do I set a reading intention
To set a reading intention, first you must be logged in. Once logged in, click Read this? next to the list item you wish to set a reading intention for.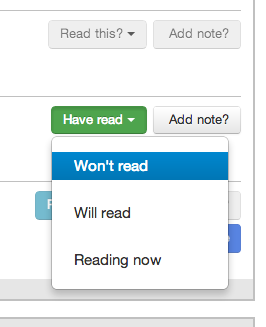 You can also set the reading intention from every item's detail page.