PDM0530 Action Research & Reflective Practice in HE and PDM0430 Professionalising your Teaching in HE
Semester One & Two 2019-2020
Archived
This list is used for both PGCTHE modules. The resources are categorised by topic.
This list relates to the semester Semester One & Two 2019-2020 which ended on 31/05/2020
This list has been archived
Just-In-Time Teaching Guide - Center for Educational Effectiveness UC Davis 2020

Webpage Essential Download the whole teaching guide in PDF form. It is a great resource collection that you can use as a starting point for investigations on particular topics, especially good when planning your action research projects.

Developing your teaching: towards excellence - Peter Kahn, Lorraine Anderson 2019 (electronic resource)

Book Essential This is a 2019 edition that addresses current issues in teaching in HE. Chapter 8 is directly relevant to action research and has some excellent case studies. Chapter 4 is helpful for working with students as partners. Chapter 2 examines the evidence that supports informed choices about teaching practices.

Enhancing teaching practice in higher education 20161446202852,9781446202852

Book Essential This resource collection is organised by theme. It includes an overview of each topic, short case studies, questions for reflection, and a list of further reading. It is a good first port of call when seeking pedagogical literature.

Journal Further reading This journal has good articles about educational action research.

Reflective Practice

8 items

Active Learning: Creating Excitement in the Classroom - Charles C. Bonwell, James A. Eison 1991

Book Essential This is the seminal work that lays out the definition of active learning, and provides a large number of ways it can be applied. Although the book is old, the information is still relevant and it is the key source cited by contemporary scholars on active learning.

Make it stick: the science of successful learning - Peter C. Brown, Henry L. Roediger, Mark A. McDaniel 20149780674729018

Book Further reading This book is aimed at both students and staff, and includes techniques we can use to help our students retain the information we teach.

Improving Students' Learning With Effective Learning Techniques - John Dunlosky, Katherine A. Rawson, Elizabeth J. Marsh, Mitchell J. Nathan 01/2013

Article Further reading Useful metastudy of methods for learning and teaching. Shows what works and what doesn't, based on evidence from cognitive science. Key message is that the methods students favour are not always the most effective ones for retaining information.

Retrieval Practice - Kate Jones 20199781912906581

Book Further reading This book is aimed at primary and secondary teachers but equally applicable to higher education.

Technology-enhanced Learning

2 items

Practical Teaching and How Students Learn

28 items
All rights reserved ©
Profile Required
Reading intentions and notes are stored against your user profile. Please create a profile to use this feature.
My notes
You must be logged in to add a note
What are item notes?
You can use item notes to make personal notes on any of your reading items. Notes are private to you and will not be shown to other users.
You can review your item notes from the list, the item page or from your profile page.
---
How do I create an item note?
To make notes, first you must be logged in. Once logged in, simply click Add note? next to the list item you wish to make notes on. You can also make notes at the bottom of every item's detail page.
Your note will be saved automatically as you type.
Have you read this?
You must be logged in to set a reading intention
What are reading intentions?
Setting up reading intentions help you organise your course reading. It makes it easy to scan through your lists and keep track of progress. Here's an example of what they look like: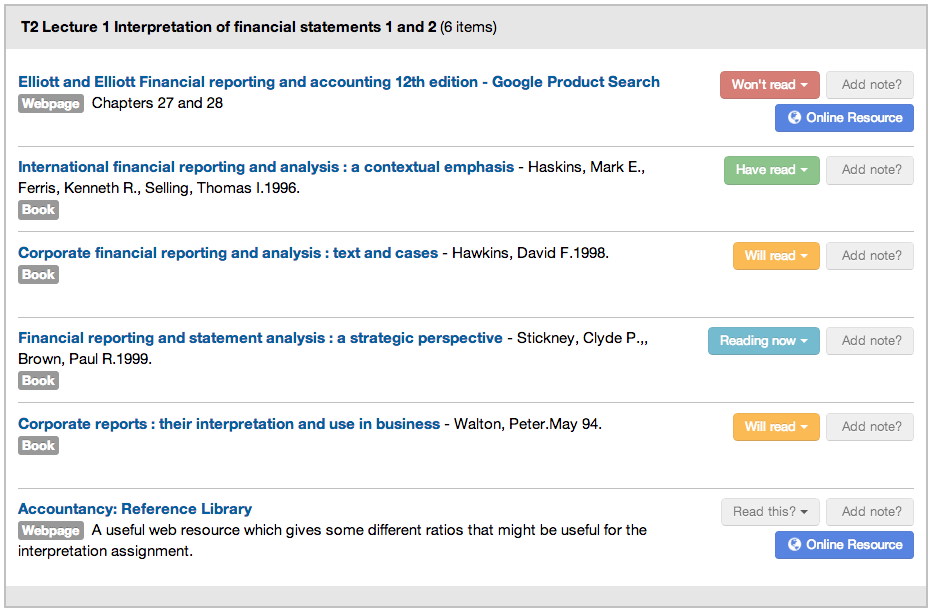 Your reading intentions are also stored in your profile for future reference.
---
How do I set a reading intention
To set a reading intention, first you must be logged in. Once logged in, click Read this? next to the list item you wish to set a reading intention for.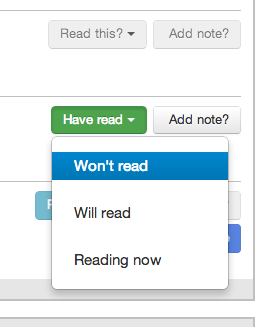 You can also set the reading intention from every item's detail page.