This list relates to the semester Semester Two 2014/15 which ended on 02/05/2015
This list has been archived
Seminar 1: ANTICOLONIALISM AND NATIONALIST STRUGGLES

6 items

Readings examine the struggles against European imperialism and colonisation in the post second world war period. They raise the question of the role of violence and the place of nationalism in independence struggles in the light of the way in which coloniser and colonised are mutually constituted through cultural and ideological processes that form an important part of what enables colonisation to take place and to be maintained. They include the anti-colonialist writings of Césaire, Memmi, Said and Fanon and discussions of the problems of nationalist struggles from Chatterjee.

Frantz Fanon: black skin, white mask - Isaac Julien, Frantz Fanon 1995 (videorecording)

Audio-visual document Essential The film introduces a number of themes that will be pursued later, for example, resistance, racism, gender and sexuality, hybridity. Available on YouTube in five parts: http://www.youtube.com/watch?v=-KNSipIY5cI We will watch this film in the seminar

The wretched of the earth - Frantz Fanon 1967 (various printings)0141186542,0140026746

Book Essential Especially chapter 1: Concerning violence, Chapter 3: The Pitfalls of National Consciousness, and the Preface by Jean Paul Sartre. Does an independence struggle need to be violent?

Resistance and opposition0099967502,9780099967507

Chapter Essential Said's distinction between nationalist independence and liberation

Seminar 2: COLONY MEETS METROPOLE: MADNESS AND CIVILISATION

6 items

Examines one of the foundational writers of postcolonialism, Frantz Fanon, and his text Black Skin, White Masks. We pick up here particularly on his experiences as a Frenchman from Martinique who encounters racism on his arrival in Paris.

Shames and Rage184904015x,9781849040150

Chapter Essential pp. 11-25, 'Shame and Rage'. A short but impassioned critique of IR; section on US soldiers in Iraq interesting in relation to experiences of French in Algeria.

Black skin, white masks - Frantz Fanon 19860745300359

Book Essential A foundational text of postcolonial studies. Think about the style of writing as well as what is being said.

Critical theorists and international relations - Jenny Edkins, Nick Vaughan-Williams 2009 (electronic resource)

Book Essential Muppidi, Himadeep 'Fanon', in Edkins and Vaughan-Williams, ed. Critical Theorists in International Relations. ( A short introduction to Fanon in the context of international relations.

Michel Foucault: the will to truth - Alan Sheridan 1980 (various printings)0415051177

Book Essential Chapter 1, 'Madness, death and the Birth of Reason.' Provides a reading of Foucault's Madness and Civilisation

Seminar 2: Other reading

1 item

Frantz Fanon: critical perspectives - Anthony C. Alessandrini, ebrary, Inc 1999 (electronic resource)

Book Further reading Excellent collection with chapters by eminent scholars.

Seminar 3: DECOLONIALITY: SITUATED KNOWLEDGES

6 items

Readings examine the argument that certain strands of thinking can be said to have emerged from the Algerian war, not only the work of Fanon but also that of Derrida and post-structural writers in general. We begin by examining Foucault's work on power/knowledge, and its importance for understanding the way in which 'truth' functions politically, and looking at how our own knowledge is 'situated'.

Seminar 4: ORIENTALISM AND HYBRIDITY

7 items

Readings explore two concepts that were key in the development of postcolonial studies: orientalism, which is associated with the classic work of Edward Said, work that is credited with inaugurating the field of postcolonial theory and draws on Michel Foucault; and hybridity, a concept developed by Homi Bhabha and one that is much contested. Bhabha draws on Derrida and Lacan as well as Foucault and Fanon.

A Passage to India - David Lean 1991 (videorecording)

Audio-visual document Essential We will watch selections from this film in the seminar. Mistrust and false accusations doom a friendship in 1920s British colonial India between an Indian doctor, an Englishwoman engaged to marry a city magistrate, and an English educator. http://www.youtube.com/watch?v=3SzpXKLhEqs 16 parts

The location of culture - Homi K. Bhabha 2004 (2008 printing)0415336392,9780415336390

Book Essential Bhabha, Homi K. "Introduction: Locations of Culture," in The Location of Culture. London: Routledge, 1994: 1-18.

The postcolonial politics of development - Ilan Kapoor 20080415773989,0415773970,9780415773980,9780415773973

Book Essential Kapoor. Ilan "Acting in a tight spot: Homi Bhabha's Postcolonial Politics." New Political Science 2003 25 (4) 561-577. Also reprinted as Chapter 7 in The Postcolonial Politics of Development

Seminar 5: SUBALTERN STUDIES AND PROVINCIALISING EUROPE

5 items

Readings examine the work of the subaltern studies group, and the recent work of Dipesh Chakrabarty, who argues for what he calls "provincializing Europe." In a context framed by liberal western ideologies it is questionable whether the oppressed — the subaltern — has even the possibility of a voice, let alone of being heard. The term subaltern comes from Gramsci. Work using the notion of the subaltern (and indeed the writings of the Subaltern Studies Group) has been developed in Latin America; its uses in studies of indigeneity are being explored at the moment.

A companion to postcolonial studies - Sangeeta Ray, Henry Schwarz 20050631206639,0631206620

Book Essential Chapter 24: Chakrabarty Dipesh "A small history of subaltern studies'

Provincializing Europe: postcolonial thought and historical difference - Dipesh Chakrabarty 2008 (electronic resource)

Book Essential New preface by the author 2007; Introduction available at http://press.princeton.edu/chapters/i8507.html and in pdf from that site. Argues that while the categories of European thought are 'indispensible', they are 'inadequate'. Influential book.

Seminar 6: IDENTITY, RACE AND DIASPORA

7 items

Postcolonial politics, in contrast to International Relations, has emphasized the politics of race and gender. In this seminar, readings examine identity and race in particular, using the work of Stuart Hall as exemplary, and look also at questions of the ambiguity and impossibility of any identification, focusing on the question of diaspora. Michel Foucault's work on biopolitics and race, and volume one of History of Sexuality, is relevant here, and his Society must be Defended lectures. We will watch selections from John Akomfrah's The Stuart Hall Project: Revolution, politics, culture and the New Left experience. UK, 2013. 95 mins. A documentary presenting a portrait of Stuart Hall and exploring themes of memory, race, and identity.

Questions of cultural identity - Stuart Hall, Paul Du Gay 1996 (various printings)0803978839,0803978820

Book Essential See Hall, Stuart. "Who needs 'identity'?" pp. 1-17.

Seminar 7: SEX, GENDER AND QUEERING POSTCOLONIALISM

5 items

Readings include two classic pieces: Gayatri Spivak's "Can the subaltern speak?" with its discussion of sati (widow burning) and suicide, and Chandra Mohanty's "Under Western eyes," a critique of western feminisms. Readings also include explorations of queering as part of decoloniality, arguing that postcolonialism retains a heteronormative framing and a commitment to binary logics.

Colonial discourse and post colonial theory: a reader - Laura Chrisman, Patrick Williams 1993 (various printings)0745014917,0745014909

Book Essential Spivak, Gayatri Chakravorty. "Can the Subaltern Speak?" Section IV. 90-104. Classic piece: Spivak is one of the most often cited feminist postcolonial writers but is notoriously difficult to read — I focus on where she deals with sati and suicide, section IV.

Seminar 8: GOVERNMENTALITY, DISCIPLINE AND DEVELOPMENT

7 items

Foucault's work on disciplinary practices and governmentality has been pivotal in the development of a specifically political approach to postcoloniality. Readings include two pieces that describe such practices in specific contexts: one in colonial Egypt and one in postcolonial aid practices in refugee camps. Critical postcolonial approaches to development were influenced by the work of Foucault and his notion of power, and by Said's Orientalism. We shall also discuss fieldwork and activism, in particular through Jennifer Hyndman's work, including "The Field as Here and Now, Not There and Then", Geographical Review, 2001, 91 (1-2): 262-272.

Discipline and punish: the birth of the prison - Michel Foucault, Alison Sheridan 1991014013722X,9780140137224

Book Essential Michel Foucault, 'Illegalities and Delinquency' pages 226-233. This short extract presents Foucault's argument that the prison is a successful failure; its functions are what must be examined.

The post-development reader - Majid Rahnema, Victoria Bawtree 19971856494748,185649473X

Book Essential Escobar, 'The making and unmaking of the Third World through development', includes extracts from Encountering Development'

Seminar 9: METROPOLE MEETS COLONY: POLITICS, INEQUALITY, ETHICS

5 items

Readings look at the influential work of Ashis Nandy, a major postcolonial thinker whose work is informed by psychoanalytic perspectives and who examines the impact of colonialism on the colonizer as well as the colonized. Other readings examine calls for a 'postcolonial ethics'.

The intimate enemy: loss and recovery of self under colonialism - Ashis Nandy 1988 (2000 printing)0195622375

Book Essential Classic and important text that examines the struggle over subjectivity in the colonial context, and the impact of colonization on colonizer as well as colonised. Particularly Section V, pp. 29-48.

The essential works of Michel Foucault, 1954-1984 - Michel Foucault, Paul Rabinow, Robert Hurley, James D. Faubion c1997-1565843525,1565843290

Book Essential Foucault, Michel "An ethics of the concern of the self as a practice of freedom," in Paul Rabinow, ed. Michel Foucault, Ethics, Subjectivity and Truth (The New Press, 1994), 281-301. Foucault's ethics of the self.

The postcolonial unconscious - Neil Lazarus 20119780521186261

Book Essential Introduction (pages 1-10 on Cambridge University Press web site )

Seminar 10: POSTCOLONIALISM WITHOUT GUARANTEES?

5 items

In the final seminar readings focus on the question of postcolonial politics as a field of problematization in the present, and examine the debates on this in the work of David Scott, among others. Both Scott and others ask: What are the questions to which postcolonialism was framed as a response? Do these questions still hold? Stuart Hall's notion of a politics without guarantees is important here, alongside Scott's tragic imagination. We will explore our own motivations as academics or potential practitioners.

Stuart Hall's ethics - David Scott

Article Essential Scott, David "Stuart Hall's ethics," Small Axe 17 (March 2005): 1-16. Discusses Hall's work under three headings: the contingency of the present, the evasion of philosophy and an ethics of generosity. An ethics without guarantees, with "no final security against the evils that threaten us on every side". http://smallaxe.dukejournals.org/content/9/1/1.full.pdf+html

The post-colonial question: common skies, divided horizons - Iain Chambers, Lidia Curti, ebrary, Inc 1996 (electronic resource)

Book Essential Hall, Stuart "When was the postcolonial: Thinking at the limit" in The post-colonial question, 242- Very interesting survey of the postcolonial move and a rejoinder to Dirlik.

Global politics: a new introduction - Jenny Edkins, Maja Zehfuss 2014 (electronic resource)

Book Essential Zehfuss, Maja. (2008) "What can we do to change the world?" in Global Politics, 483-501. Another version of the impossibility of guarantees/tragic imagination set out by Hall and Scott.
All rights reserved ©
Profile Required
Reading intentions and notes are stored against your user profile. Please create a profile to use this feature.
My notes
You must be logged in to add a note
What are item notes?
You can use item notes to make personal notes on any of your reading items. Notes are private to you and will not be shown to other users.
You can review your item notes from the list, the item page or from your profile page.
---
How do I create an item note?
To make notes, first you must be logged in. Once logged in, simply click Add note? next to the list item you wish to make notes on. You can also make notes at the bottom of every item's detail page.
Your note will be saved automatically as you type.
Have you read this?
You must be logged in to set a reading intention
What are reading intentions?
Setting up reading intentions help you organise your course reading. It makes it easy to scan through your lists and keep track of progress. Here's an example of what they look like: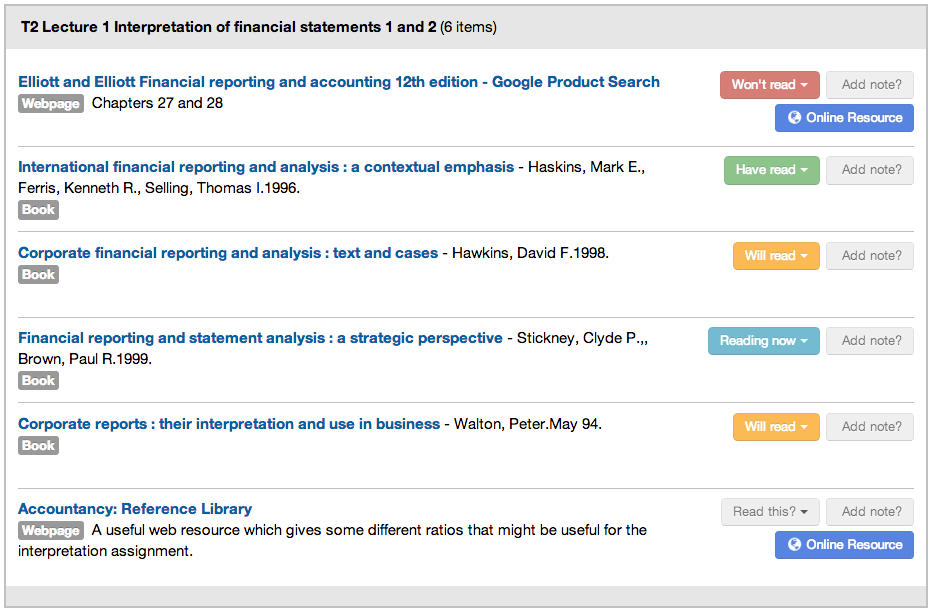 Your reading intentions are also stored in your profile for future reference.
---
How do I set a reading intention
To set a reading intention, first you must be logged in. Once logged in, click Read this? next to the list item you wish to set a reading intention for.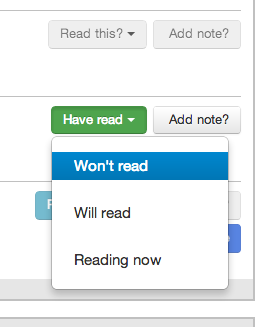 You can also set the reading intention from every item's detail page.