GS30420 Volcanic Activity: Hazard and Environmental Change
Semester Two 2019-2020
Other recommended Texts

44 items

Encyclopedia of volcanoes - Haraldur Sigurdsson 2000012643140X

Book Further reading A full PDF is available on: http://www.geo.auth.gr/yliko/useful/books/books_geology/E/Encyclopedia%20of%20Volcanoes.pdf

Volcanic Hazards and Mitigation

34 items

Volcanic hazard assessment in western Europe - David K Chester, Christopher J.L Dibben, Angus M Duncan 2002-6

Article Further reading Next time you are in Italy, the Aegean, the Azores or the Canaries, it might prove useful to have read this!

Volcanic Eruptions and the Climate

57 items

Mainly Tambora and the year without a summer. But also look at the mystery eruptions below.

Explore the year without a summer

Pinatubo Eruption

6 items

The last eruption to perturb global climate

Mystery eruptions

10 items

They affect the planet but the source is not always known

Source of the great A.D. 1257 mystery eruption unveiled, Samalas volcano, Rinjani Volcanic Complex, Indonesia - Franck Lavigne, Jean-Philippe Degeai, Jean-Christophe Komorowski, Sébastien Guillet, Vincent Robert, Pierre Lahitte, Clive Oppenheimer, Markus Stoffel, Céline M. Vidal, Surono, Indyo Pratomo, Patrick Wassmer, Irka Hajdas, Danang Sri Hadmoko and Edouard de Belizal 2013

Article Essential Ice core sulphate records suggest that this may be the biggest eruption of the last thousand years. Until recently its source was unknown. A great paper.

Fissure Eruptions

25 items

Mainly Laki, but it is my favourite volcano.

Super-­‐eruptions

12 items

Lots here, but also see folders on specific volcanoes below.

Volcanic Winters - M R Rampino, S Self, R B Stothers 05/1988

Article Essential The paper which launched much of the focus on these events - the whole volcanic winter idea takes root here.

Webpage Further reading Another recent paper which models the sulphur impact of CFB eruptions. Follow the link to researchgate.

Toba super eruption

31 items

Did this eruption accelerate the last glacial maximum and push humanity to the brink of extinction? Quite possibly.

Middle Paleolithic Assemblages from the Indian Subcontinent before and after the Toba Super-Eruption - Michael Petraglia, Ravi Korisettar, Nicole Boivin, Christopher Clarkson, Peter Ditchfield, Sacha Jones, Jinu Koshy, Marta Mirazón Lahr, Clive Oppenheimer, David Pyle, Richard Roberts, Jean-Luc Schwenninger, Lee Arnold and Kevin White 2007

Article Essential

Reply to the comment on "Environmental impact of the 73ka Toba super-eruption in South Asia" by M. A. J. Williams, S. H. Ambrose, S. van der Kaars, C. Ruehlemann, U. Chattopadhyaya, J. Pal, P. R. Chauhan [Palaeogeography, Palaeoclimatology, Palaeoecology 284 (2009) 295–314] - Martin A.J. Williams, Stanley H. Ambrose, Sander van der Kaars, Carsten Ruehlemann 10/2010

Article Essential Link to the paper above

Journal Further reading The Toba Volcanic Super-eruption of 74,000 Years Ago: Climate Change, Environments, and Evolving Humans

Campanian Supereruption

21 items

Europe has its own supervolcano and one eruption threw tephra as far as the Ukraine and may have helped our ancestors out-compete our neanderthal cousins

Volcanic ash layers illuminate the resilience of Neanderthals and early modern humans to natural hazards - John Lowe, Nick Barton, Simon Blockley, Christopher Bronk Ramsey, Victoria L. Cullen, William Davies, Clive Gamble, Katharine Grant, Mark Hardiman, Rupert Housley, Christine S. Lane, Sharen Lee, Mark Lewis, Alison MacLeod, Martin Menzies, Wolfgang Müller, Mark Pollard, Catherine Price, Andrew P. Roberts, Eelco J. Rohling, Chris Satow, Victoria C. Smith, Chris B. Stringer, Emma L. Tomlinson, Dustin White, Paul Albert, Ilenia Arienzo, Graeme Barker, Dušan Borić, Antonio Carandente, Lucia Civetta, Catherine Ferrier, Jean-Luc Guadelli, Panagiotis Karkanas, Margarita Koumouzelis, Ulrich C. Müller, Giovanni Orsi, Jörg Pross, Mauro Rosi, Ljiljiana Shalamanov-Korobar, Nikolay Sirakov and Polychronis C. Tzedakis 2012

Article Essential

Origins of Life and Mass Extinctions

38 items

Can we have life without volcanic activity? Then again do we need a volcanic eruption to have a REALLY big volcanic eruption?

End Permian extinction events

11 items

Cretaceous - Tertiary extinctions

10 items

Origins of life and Black Smokers

4 items

Human and Cultural Responses

48 items

Mainly archaeological tales.

Eruptions of Vesuvius

11 items

Santorini - a Bronze Age disaster in the heart of the Aegean.

17 items

A central event in our history, this eruption is associated with a period of profound upheaval and conflict.

Volcanic Processes and Planetary Volcanism

11 items

Is sunlight essential to the ceration o fthe conditions for life? Will a volcano do? where4 does the atmosphere come from?
All rights reserved ©
Profile Required
Reading intentions and notes are stored against your user profile. Please create a profile to use this feature.
My notes
You must be logged in to add a note
What are item notes?
You can use item notes to make personal notes on any of your reading items. Notes are private to you and will not be shown to other users.
You can review your item notes from the list, the item page or from your profile page.
---
How do I create an item note?
To make notes, first you must be logged in. Once logged in, simply click Add note? next to the list item you wish to make notes on. You can also make notes at the bottom of every item's detail page.
Your note will be saved automatically as you type.
Have you read this?
You must be logged in to set a reading intention
What are reading intentions?
Setting up reading intentions help you organise your course reading. It makes it easy to scan through your lists and keep track of progress. Here's an example of what they look like: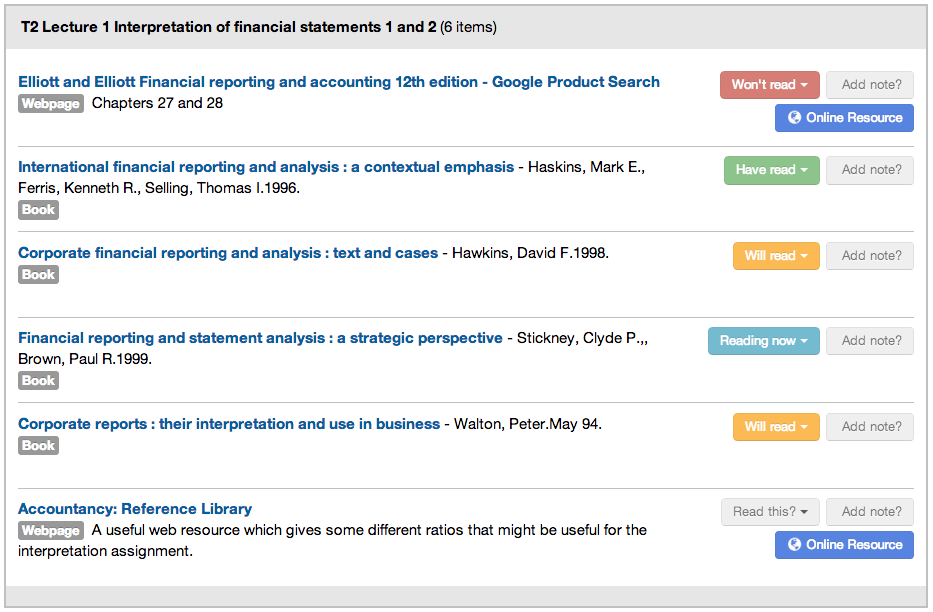 Your reading intentions are also stored in your profile for future reference.
---
How do I set a reading intention
To set a reading intention, first you must be logged in. Once logged in, click Read this? next to the list item you wish to set a reading intention for.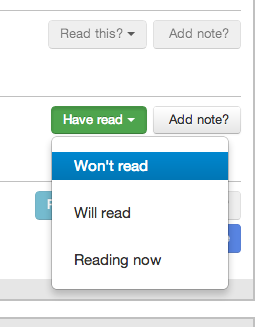 You can also set the reading intention from every item's detail page.