HY26520 / HY36520 The European Reformation
Semester Two 2017-2018
Archived
Historians now tend to look at the Reformation as a process rather an event. The idea of Europe's Long Reformation, stretching from the early sixteenth century until at least the end of the seventeenth, if not beyond, has become increasingly accepted. This module adopts this perspective, and looks at the Protestant and Catholic Reformations throughout Europe, and in North America. The module, therefore, deals with a series of inter-related questions and themes. It looks at the magisterial reformers in some detail, and examines the different 'reformations' which they advocated. It then looks at how those different 'reformations' became entwined with larger dynastic and political concerns throughout Europe. Adopting a series of case studies, varying both chronologically and geographically, the module tries to do justice to the nature and variety of Protestant belief and spirituality, and looks at what it actually meant in real terms to be a Protestant in this period. The Reformation revolutionized not only theology and worship, but also popular belief, political engagements and domestic relationship. The module also examines some of the debates about the relationship between the Reformation and the emergence of modernity, with a particular focus on, individualism, democracy, capitalism and even secularization.
This list relates to the semester Semester Two 2017-2018 which ended on 03/06/2018
This list has been archived
Core texts for the module

3 items

There are two core texts for the module:

Reformation thought: an introduction - Alister E. McGrath 2012 (electronic resource)

Book Essential The is available as an ebook. There are also several copies of this book in hard-copy in the library.

Reformation thought: an introduction - Alister E. McGrath 20120470672811,144435485x,1444354884,1444354868,1444354876,9780470672815,9781444354850,9781444354881,9781444354867,9781444354874

Book Essential

Further important works

12 items

There are a number of books to which I'll be referring you throughout the module, general introductions to the Reformation world. There will be readings from many of these for each seminar, and they should provide you with some of the best introductions to all of the themes we'll be looking at.
All rights reserved ©
Profile Required
Reading intentions and notes are stored against your user profile. Please create a profile to use this feature.
My notes
You must be logged in to add a note
What are item notes?
You can use item notes to make personal notes on any of your reading items. Notes are private to you and will not be shown to other users.
You can review your item notes from the list, the item page or from your profile page.
---
How do I create an item note?
To make notes, first you must be logged in. Once logged in, simply click Add note? next to the list item you wish to make notes on. You can also make notes at the bottom of every item's detail page.
Your note will be saved automatically as you type.
Have you read this?
You must be logged in to set a reading intention
What are reading intentions?
Setting up reading intentions help you organise your course reading. It makes it easy to scan through your lists and keep track of progress. Here's an example of what they look like: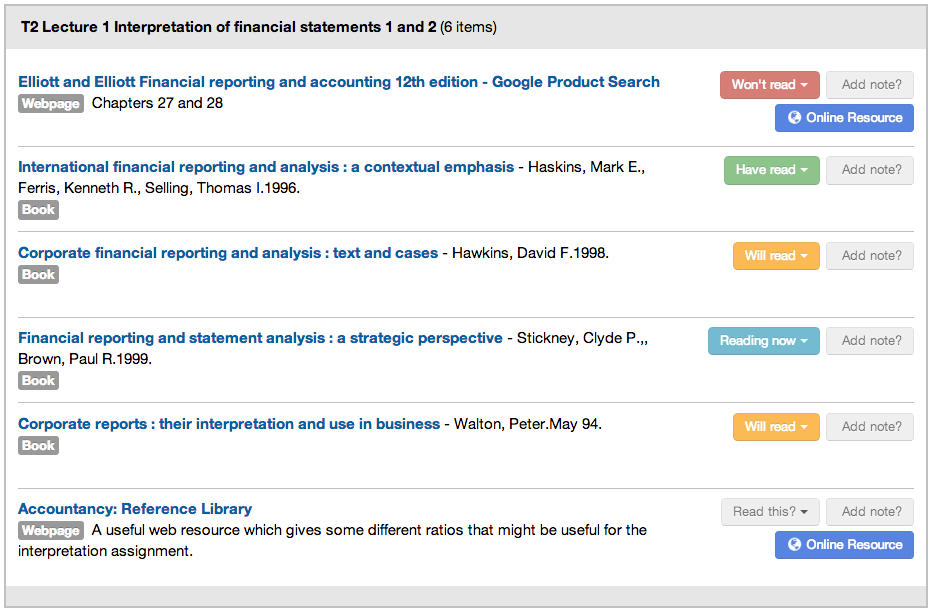 Your reading intentions are also stored in your profile for future reference.
---
How do I set a reading intention
To set a reading intention, first you must be logged in. Once logged in, click Read this? next to the list item you wish to set a reading intention for.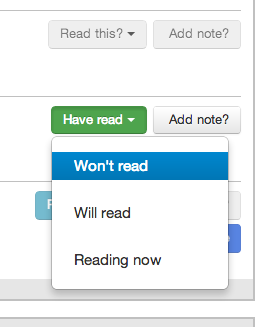 You can also set the reading intention from every item's detail page.