HY25720 / HY35720 The British Isles and the 'English Revolution'
Semester Two 2017-2018
Archived
This module explores the 'English revolution' of 1640-60 against its wider chronological and geographical background, allowing students access both to the traditional narrative and to more recent 'new British' or 'Archipelagic' perspectives.
This list relates to the semester Semester Two 2017-2018 which ended on 03/06/2018
This list has been archived
General information:

1 item

This reading list provides suggestions for introductory reading, This reading list is not exhaustive. You will be directed to specific readings for seminars throughout the course. You should make use of the variety of electronic and print resources available through the Hugh Owen Library. If you require any help in using library resources - both print and electronic - you are welcome to contact the Subject Librarian for the Department of History and Welsh History, contact details and links to useful general resources in History are provided in the below item.

INTRODUCTORY WORKS

61 items

Long Term Background: The peoples of the British Isles and their states before 1500

9 items

National units as imagined communities

5 items

Arguments for a history of the British Isles

7 items

The State of British History 12 March 1993

Article Further reading Also include: C.Russell on 'John Bull's other nations', David Cannadine on plans for a new Penguin History of Britain and a valuable review by Anthony Fletcher on p.11 'Debating the Civil War'.

Studies of Early Modern History from a 'British Isles' perspective

11 items

A Case of 'Colonies' on both sides of the Atlantic?

9 items

The British Isles as a part of mainland Europe

20 items
All rights reserved ©
Profile Required
Reading intentions and notes are stored against your user profile. Please create a profile to use this feature.
My notes
You must be logged in to add a note
What are item notes?
You can use item notes to make personal notes on any of your reading items. Notes are private to you and will not be shown to other users.
You can review your item notes from the list, the item page or from your profile page.
---
How do I create an item note?
To make notes, first you must be logged in. Once logged in, simply click Add note? next to the list item you wish to make notes on. You can also make notes at the bottom of every item's detail page.
Your note will be saved automatically as you type.
Have you read this?
You must be logged in to set a reading intention
What are reading intentions?
Setting up reading intentions help you organise your course reading. It makes it easy to scan through your lists and keep track of progress. Here's an example of what they look like: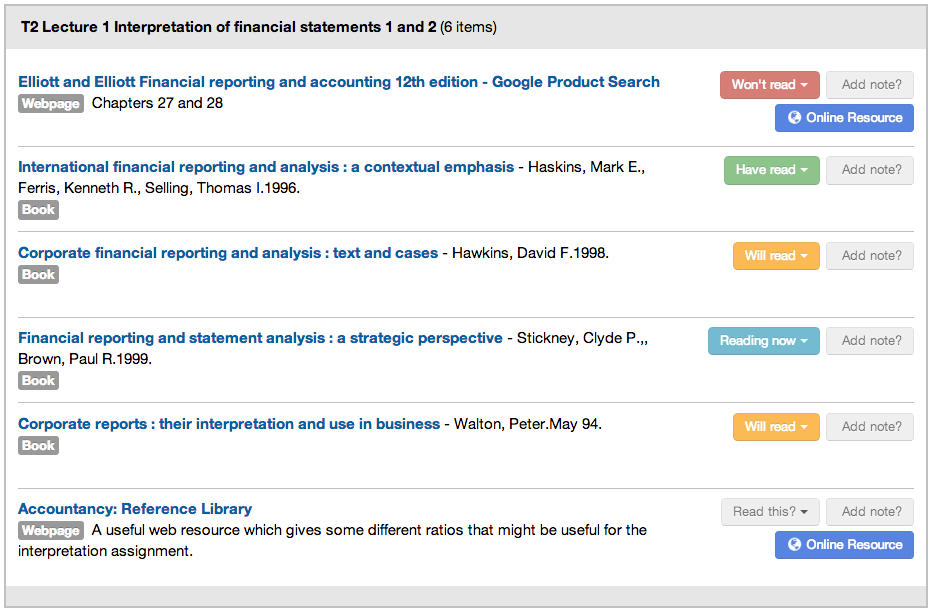 Your reading intentions are also stored in your profile for future reference.
---
How do I set a reading intention
To set a reading intention, first you must be logged in. Once logged in, click Read this? next to the list item you wish to set a reading intention for.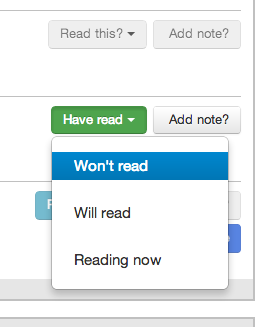 You can also set the reading intention from every item's detail page.