HY29520 / HY39520 - The Soviet Union and the World, 1917-1991
Semester Two 2017-2018
Archived
The Soviet Union stood as a state at odds with others throughout much of the twentieth century. As a revolutionary state, other powers viewed the Soviet Union as aggressively expansionist, dangerous, and difficult to deal with. The Soviets, held much the same view of the capitalist world, and in the second half of the twentieth century the Soviet Union and the United States were locked in the Cold War. This module examines the content and conduct of foreign policy of the Soviet Union and its relationship with other states. Beginning with an overview of late Russian imperial foreign policy, the module examines the impact of the Russian Revolution and the rise of the Bolsheviks on the relationship between Russia and the rest of the world, how security was sought in a challenging interwar world, the development and origins of the Cold War, foreign policy after Stalin's death, and the demise of Soviet power under Gorbachev. Themes addressed include continuity and change in foreign policy, ideology, the export of revolution, diplomacy, intelligence, anti-fascism, imperialism, conflict, reform, arms control, and ultimately the loss of power in the 1980s.
This list relates to the semester Semester Two 2017-2018 which ended on 03/06/2018
This list has been archived
All rights reserved ©
Profile Required
Reading intentions and notes are stored against your user profile. Please create a profile to use this feature.
My notes
You must be logged in to add a note
What are item notes?
You can use item notes to make personal notes on any of your reading items. Notes are private to you and will not be shown to other users.
You can review your item notes from the list, the item page or from your profile page.
---
How do I create an item note?
To make notes, first you must be logged in. Once logged in, simply click Add note? next to the list item you wish to make notes on. You can also make notes at the bottom of every item's detail page.
Your note will be saved automatically as you type.
Have you read this?
You must be logged in to set a reading intention
What are reading intentions?
Setting up reading intentions help you organise your course reading. It makes it easy to scan through your lists and keep track of progress. Here's an example of what they look like: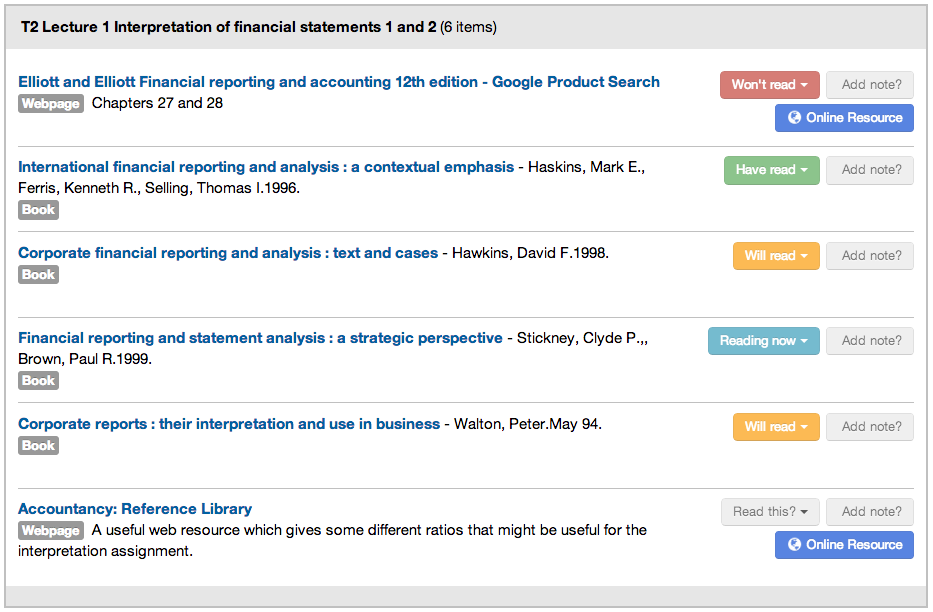 Your reading intentions are also stored in your profile for future reference.
---
How do I set a reading intention
To set a reading intention, first you must be logged in. Once logged in, click Read this? next to the list item you wish to set a reading intention for.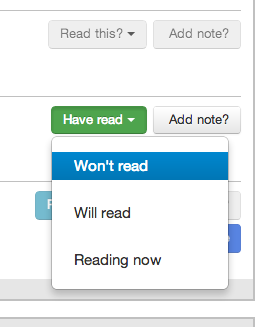 You can also set the reading intention from every item's detail page.