HY39620 Germany since 1945
Semester One 2017-2018
Archived
In May 1945 the Third Reich was defeated and Germany lay in ruins. The occupation of Germany and the development of the Cold War resulted in the creation of two ideologically opposed German states. This module will examine the fall of the Third Reich, the foundation, domestic and foreign politics of the FRG and the GDR as well as their central role in the Cold War. It will explore German culture and society and themes such as memory. The module also looks at the process of re-unification in 1990 and the subsequent Berlin Republic. A range of primary sources will be used alongside secondary literature to examine the key scholarly debates on Germany since 1945.
This list relates to the semester Semester One 2017-2018 which ended on 28/01/2018
This list has been archived
General information

1 item

If you require any assistance in using library resources - both hard copy and electronic - you are welcome to contact the Subject Librarian for the Department of History and Welsh History, contact details and links to useful general resources are provided in the following item

General Literature

1 item

Primary Source Collections

3 items

Historiographical Works

16 items

Journal Further reading •New German Critique 44 (spring/summer 1988) is devoted solely to the Historikerstreit with contributions from Habermas, Mary Nolan, Andrei S. Markovits, Martin Broszat, Saul Friedlaender, Hans-Georg Betz, and Anson Rabinbach

Select Bibliography

254 items
All rights reserved ©
Profile Required
Reading intentions and notes are stored against your user profile. Please create a profile to use this feature.
My notes
You must be logged in to add a note
What are item notes?
You can use item notes to make personal notes on any of your reading items. Notes are private to you and will not be shown to other users.
You can review your item notes from the list, the item page or from your profile page.
---
How do I create an item note?
To make notes, first you must be logged in. Once logged in, simply click Add note? next to the list item you wish to make notes on. You can also make notes at the bottom of every item's detail page.
Your note will be saved automatically as you type.
Have you read this?
You must be logged in to set a reading intention
What are reading intentions?
Setting up reading intentions help you organise your course reading. It makes it easy to scan through your lists and keep track of progress. Here's an example of what they look like: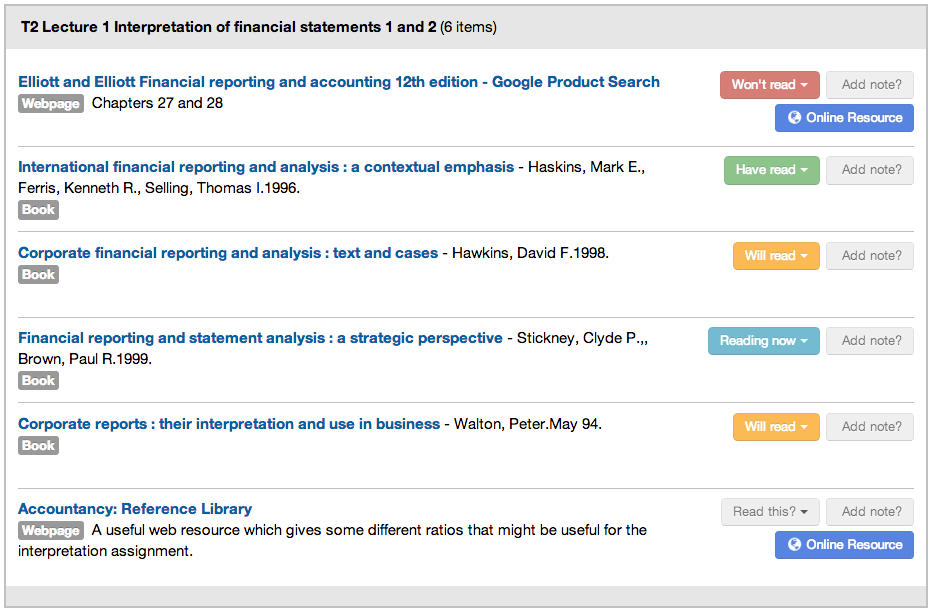 Your reading intentions are also stored in your profile for future reference.
---
How do I set a reading intention
To set a reading intention, first you must be logged in. Once logged in, click Read this? next to the list item you wish to set a reading intention for.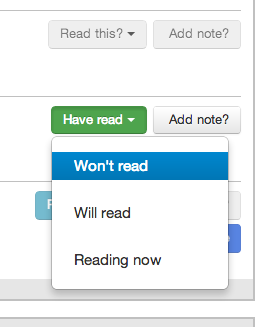 You can also set the reading intention from every item's detail page.